A dedicated team at your service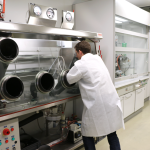 Our Hight Potent API R&D Department is composed of:
3 teams led by PhD Chemists together with 2 Chemists for chemical developments, route scouting process optimizations, industrialization
1 Dedicated Analytical Development Laboratory led by 1 PhD assisted by 1 supervisor and 3 analytical chemists
The team leader is dedicated to a project and is the main technical contact. This organization allows a good efficiency and quick decisions.
The Department main functions are:
Synthetic Research and Process Development;
Analytical Research and Development;
Continuous improvement
This experienced and professional research team manages the technical transfer from the customer, optimizes and scales up synthetic processes, looks for alternative more competitive routes as part of the supply chain continuous improvement.
Research, industrial development and manufacturing teams are located on the same site and they liaise permanently for fast industrialization and quick troubleshooting.
The Analytical R&D is equipped to support not only process development activities but also DMF/CEP registrations.
The R&D department also maintains cooperation with other R&D teams of the Minafin group and local Universities. This enables Minakem High Potent to validate and use the latest technologies in organic synthesis, as well as to access specific expertise.