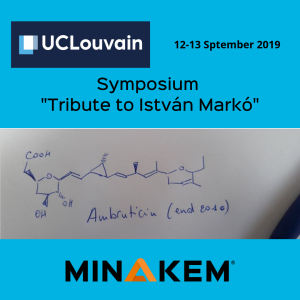 Minakem is glad to sponsor the Symposium –
Tribute to István Markó,  12-13 September 2019 –  Louvain-la-Neuve, Belgium
Professor Markó (biography), was in charge of the "Laboratoire de Chimie Organique et Médicinale" in the Université Catholique de Louvain during 24 years.
Lectures of the symposium "Organic Chemistry and The Synthesis of Complex Molecules – A tribute to István Markó" will be delivered by the friends of István.
The symposium will be held on Thursday, September 12th beginning at 14h00 and will end on Friday, September 13th at 18h00. It will be followed by a reception and dinner on Friday evening.
Click here for more info