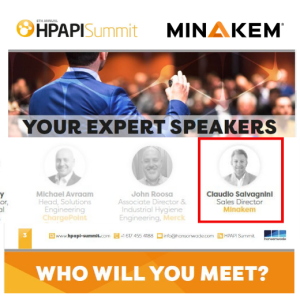 In the context of ever-increasing drug potency, the 8th Annual HPAPI Summit is devoted to providing the insights required to improve the efficiency, safety, and cost-effectiveness of HPAPI production.
This meeting will bring together perspectives from process engineers, EHS and industrial hygiene leaders to break down communication barriers and build a harmonized approach that will increase safety and effectiveness at every stage of development.
Focusing specifically on the unique challenges involved in working with HPAPIs, this conference will provide real-world case-studies from the companies actively working on these compounds, enabling you to implement safe and robust practices in your own organization.
Claudio Salvagnini, High Potent Market Director, will make a presentation on Minakem, A Fully Integrated HPAPI CDMO.
More info : www.hpapi-summit.com
Schedule a meeting for HPAPI Summit 2019, Waltham, MA