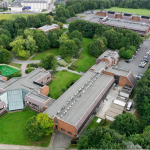 Louvain-la-Neuve Plant, Belgium, 01 June 2015, The Minafin Group has just acquired the Louvain-La-Neuve (Belgium) site of Ajinomoto Omnichem together with its business of high potent APIs and controlled substances. The acquired activities will be integrated into Minafin's pharmaceutical chemistry, Minakem as a separate business unit named "Minakem High Potent". Minafin will also be responsible for operating the amino acid blending operation as a dedicated subsidiary, which will exclusively manufacture on the behalf of Ajinomoto Group. This asset purchase will bring new strategic Know-how to Minakem and extend the scope of its pharmaceutical services to catalyze the development of its pharmaceutical market share. Minafin will employ 110 highly-qualified people at the Louvain-la-Neuve site further diversifying its geographical portfolio of industrial sites.
Since its inception in 1974, the Louvain-la-Neuve site has pioneered the chemistry of alkaloids and has been among the first companies in the world to manufacture anticancer active principles and narcotics derived from plant extracts. The acquisition also allows extending Minakem's portfolio of generic APIs and injectable substances. Minafin's pro forma turnover henceforth exceeds EUR 135 million.
ABOUT MINAFIN
Minafin is a French private industrial company specialized in fine chemistry. Minafin generates more than 135 M€ revenues on a yearly basis and employs 700 people. Its activities include industrial subcontracting, development of chemical syntheses and industrial scale-up of custom-made processes as well as proprietary products with high added value for the pharmacy, the cosmetic, the agriculture and the high-tech industries.